Araujo Farms is a fourth generation, family-owned business, since 1927.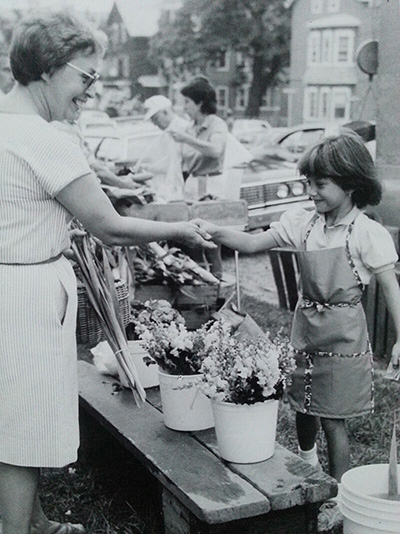 The Araujo Family roots go back four generations to 1927 when Manuel Araujo bought the Simmons Farm at 1423 Williams Street.
Manuel and his wife, Rita, raised produce such as tomatoes, beans, and sweet corn while still milking cows for local sales. Following Manuel's death in 1949, Rita and their children ran the farm.
In 1950, brothers Manuel Jr. and Caesar, took over Araujo Bros. Produce (formerly Araujo & Sons Produce). A few years later, wanting to expand the business beyond wholesale, the brothers opened the retail store in 1956. In 1962, they began raising geraniums for the stand along with produce. In 1965, they expanded even further by adding bedding plants for wholesale and retail. In 1976, the brothers stopped selling retail produce, choosing to focus on retail and wholesale flowers while continuing to sell wholesale produce. In 1978, Manuel retired and his nephew Ken took over the stand along with his Father, Caesar.
In 1981, Caesar retired, and Ken and his wife, Darlene, took over the business. In 1984, with much demand from customers, Ken and Darlene opened Araujo's Cabbage Patch. Customers came from miles away to get fresh produce and quality plants.
In 1990, Ken and Darlene relocated from the original farm to our current site and became Araujo Farms. They chose to focus on growing and selling annuals, herbs, perennials, hanging baskets, and vegetable plants.
Ken and Darlene's daughter LeeAnne joined the business in 2000, bringing fourth generation on board. She has been a great addition to the business, adding garden giftware as well as classes and other events to the mix.
Ken, Darlene, and LeeAnne have made a lifelong commitment to the quality of their plants and knowledge. Our business card reads "Growing For Generations". We have been growing 90% of the products we sell for four generations and hope to continue for generations to come. Gardening has become a generational passion for us, as it has for many of our customers. Thank you all for supporting local farms!